We believe that:
there is one God, who is revealed as Father, Son, and Holy Spirit
the one God is Creator, Redeemer, Sanctifier, Sustainer, Savior, Lover
the one God comes to us more than we come to God
the one God raised Jesus from the dead
the one God rules over all life and all death
Jesus is alive
Jesus loves and forgives freely, without prejudice
Jesus calls us to live as radically as Him
We value:
a Lutheran approach to the Christian faith
young people in worship
the power of prayer
questions and doubts
the importance of ongoing faith growth
the time of our volunteers
the gifts of God's people
each other as a faith family
We are:
a congregation of the Evangelical Lutheran Church in America
imperfect, yet set apart
messy, yet cleaned
sinners, yet saints
ambassadors for Christ, yet sons and daughters of God
loved just they way we are
Lutheran Christians recognize two actions that are sacramental:
Holy Baptism:
We believe that when Jesus said, "Go and make disciples of all nations, baptizing them in name of the Father and of the Son and of the Holy Spirit," he meant what he said. Therefore we believe that baptism is for all, regardless of age, gender, race, or sexual orientation.
Through baptism, God sets apart God's children to spread the Word of God and share the good news of Jesus' resurrection. That gift is open to everyone.
Holy Communion:
We believe that when Jesus said, "This is my body," and, "This cup is the new covenant in my blood," he meant what he said. Lutheran Christians believe that the bread we eat and the wine we drink during worship is truly the body and blood of Christ.
We also believe that this gift is freely given to all. Any who wish to receive the body and blood of Christ is welcome. You do not need to be a member of this church, nor do you even need to be Lutheran to receive this gift. We simply prefer that you are a baptized Christian.
For those who prefer, we offer a gluten free bread option for the body of Christ.
We choose to only offer wine for the blood of Christ.
We believe that the sacrament is no less effective if only one of the elements is consumed.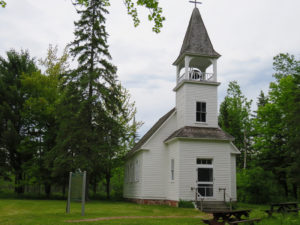 Gloria Dei, established in 1966, is a merger of St. Matthew's Lutheran Church (Finnish Lutheran) and Salem Lutheran Church (Swedish Lutheran).